After you have decided to buy a set of spark plug for your automobile, the bigger problem arises finding the right gapping for the plugs. In the plethora of spark plug brands and their innumerable gap lists, you might get perplexed. Having inappropriate gaps in the spark plugs will malfunction the engine.
For example, if the spark plugs are too widely gapped, then the engine will require more voltage. For this, in some cases, the ignition system fails if they don't acquire the needed voltage. Whereas a tightened gapping causes weak sparks that lead to ineffective ignition of the air-fuel mixture. Similarly, more unusual problems like engine misfire, compression stroke, rough idling arise.
How does spark plug gap affect performance?
Nowadays, spark plug manufacturers make their plugs pre-gapped to fit in the exact vehicle it is made for. It not only frees you from the hassle of gapping but also prevents creating a mis-gap while DIYing. However, the pre-gapped ones are still slightly customizable according to the need. Hence, we brought a list to give you an idea of what spark plug gaps some brands have.
Therefore, we have selected quite a few spark plug gap charts and enlisted them to make it easier for you to find them in one place.
Champion spark plug gap chart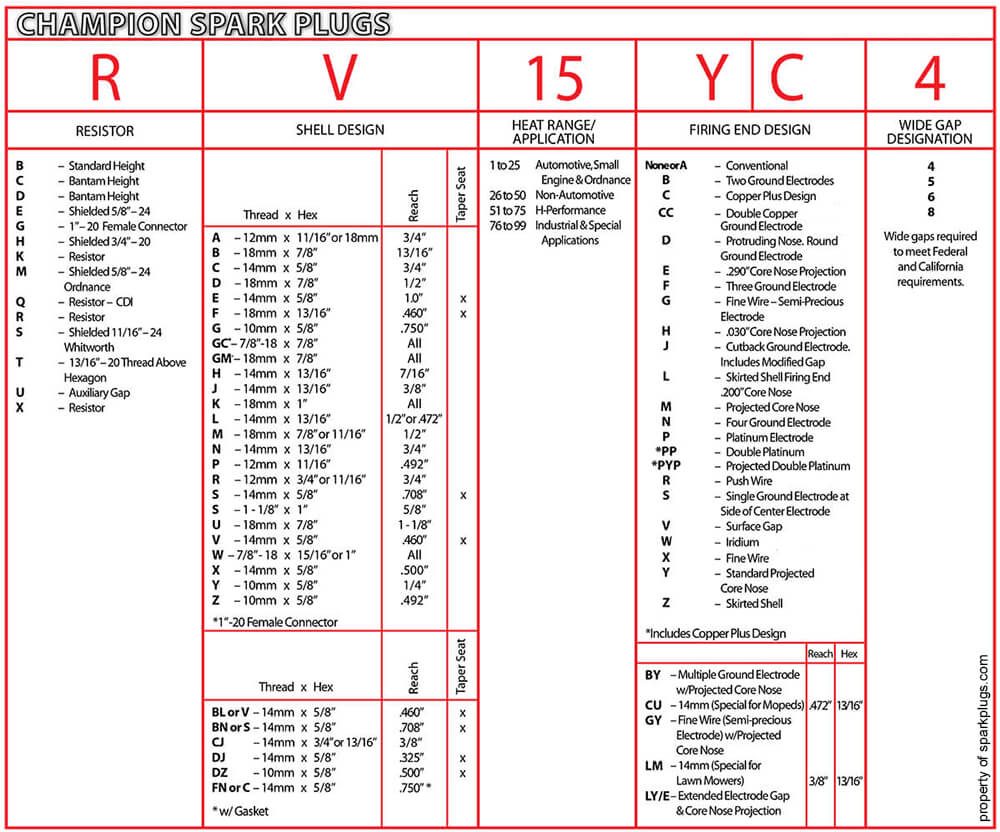 Source: Champins Numbering System or Gap Chart
Autolite spark plugs gap chart
Source: Auto Lite Catalogue By Noels Autoparts
NGK iridium spark plug gap chart
Source: NGK Iridium Spark Plug Gap Chart by Line
Gap iridium plugs
Source: NGK Gapping Guide by NGK
Lawn Mower spark plug gap chart
Source: Fixing Lawn Mover Spark Plug Issues
Chevy spark plug gap chart
Source: Chevy Spark Plug Gap Chart by UNESE
ACDelco spark plug gap chart
Source: AC DELCO spark plug gap chart by UNESE
Toyota spark plug gap chart
MSD spark plug gap chart
Source: MSD digital Ignition Install Guide by American Muscle
2005 Nissanaltima spark plug gap
2005 scion XB spark plug gap